Understanding Self-care: The Recipe to Loving Yourself
Self-care is taking deliberate steps to take care of oneself, physically and mentally. Indulging in activities that lead one to shake off the hassles of everyday life, to helping them start their "tomorrow" better is self-care. It is a topic that is spoken very widely today, due to the demands and emotional pressures of life and how it is important to be in sync with oneself, emotionally, mentally and physically. In spite of this, self-care is very neglected on a personal level. If self-care becomes a part of the everyday routine, it will be a vital aspect leading to excellent overall well-being.
The Self-Care Plan: Adding your ingredients of self-love!
A self-care plan is something that you build for yourself as per your needs, and time. There are no hard and fast rules to build a plan but it only depends on how you make your routine. It can be weekly or even on a daily basis. It is usually made up of an amalgamation of activities that are done to help you calm mentally, emotionally, and physically.
One of the most widely used self-care planners is the Olga wheel, which is a chart that includes the lines on which your self-care plan can be divided (psychological, physical, spiritual, etc) which makes it easy for the user to write down which activity should be followed when, and keep a track of the same. Also known as the self-care wheel, it helps one to carry out their plan on an overall basis.
Regular Exercise:
This is something that is a must as physical energy is required to carry out almost everything. People with corporate jobs are required to constantly sit in a place for long hours which is tedious but makes them lazy. Exercising does not only involve stamina but also builds confidence due to a good physique.
Mind Exercises:
Meditation or mindfulness-based lifestyle is a must in the kind of fast-paced world we are living in. taking out some time each day and practicing these by imbibing them in your life will result in a healthy mind and better self-awareness, when it comes to their thoughts and emotions.
It's all about the basics!
If you are not sure how to start with preparing a self-care plan, begin with the basics- eat on time, get a good sleep on a regular basis, wake up early, make time for your hobbies, refrain from habits such as consumption of drugs or substances of any kind. Although this sounds very monotonous and old school, it does have an impact as this is a minimalist way of living. Resorting to this lifestyle will help develop self-control and will only increase the importance of self.
A Glow-up session:
Physical beauty is not everything and is different for all. Self-care is not about changing or bettering the way you look physically, but taking care of what you already have. Having a weekly skin and hair care routine or following power dressing is something that can not only keep you productive physically but also mentally. It will make you confident and teach you to love yourself with whatever you have.
Journaling and gratitude:
When it comes to taking care of yourself on a psychological and emotional level, journaling comes in handy at all times. It helps you realize and make you aware of your emotions and how you think. Maintaining a journal and making sure of writing it down each day can be a form of self-care activity to heal the mind. This does not have to be formal, as you can do what you like in your little space; one activity can be maintaining a self-care or a gratitude journal which includes everything you like, what makes you happy, and how following your self-care routine makes you feel.
Talk it out!
Sometimes, self-care can also mean taking professional help as there could be certain issues that need professional attention- and that is absolutely fine! If you think you need to indulge in healthy ways of channelizing your emotions, you can get help from a mental health professional which will allow you to explore your issues and yourself in a healthy and effective way.
Imagine you are assigned a task that you have no expertise in. You have to guide a team to assure that the outcome is phenomenal, but you yourself are completely lost. How would you guide or even advise your team to take the necessary steps? Well, self-care is just the same- when we are able to recognize and take care of ourselves that is when we can have a healthy outcome such as positive relationships with others.
It is true when they say that "it all starts with you", self-care is built on similar lines. Taking care of yourself on an internal level will give you the power to be better on the outside, such as your work, relationships, and your overall attitude.
Helps to know yourself:
Self-care is about doing what you love in order to keep your body, mind, and soul in sync. When you indulge in activities that you love, you automatically realize our troubled areas, that is when you know what are the things in your life that truly require repair.
Self-Development:
Self-care is taking time off to care for yourself. It includes anything from exercising to therapy or even a weekly glow up session. When we talk of self-care the overall outcome leads to a more confident and well-developed person. When the things that we consider important for us are taken utmost care of, it automatically shines in our personality.
Builds Positvity:
When you are aware of the areas in your life that need to be worked on, or even just the fact that you want to care for yourself in, either way, it helps you to understand your potential and your strengths and weaknesses which you can further build on. This in turn can help you have a positive attitude and see life from the eyes of your strengths.
Helps in productivity:
Having a set routine or a plan that you wish to follow, helps you to stay productive and kick start your weekdays. Self-care is not only about doing activities that you love, but it also means that you are fuelling your body and mind with the energy that is required to carry out daily chores. Having "leisure productivity" will motivate you to work on your goals as self-care will provide you with clarity and destress you.
An overall aid:
Sometimes, when life gets monotonous, we feel that there are missing pieces to our puzzle in spite of a good job or a happy relationship. Most of the time, it is us who fail to realise that we have to work on our innermost self to be truly aware of our surroundings. Self-care acts as this missing puzzle piece and contributes as an aid to feel happy and healthy for taking care of yourself.
Lastly, It's time to taste the recipe!
Self-care is the foundation to self-love, as it is when you realize how hard you have been working on the inside, that is when the self-appreciation will arise. Self-care is all about working on yourself in a healthy and productive manner and the outcome is only a confident and developed individual who realizes their potential. It is when you take care of yourself, your surroundings are happier as you can handle yourself in a better way.
*DISCLAIMER*
The following content is for information purposes only. We, in no way claim or assure that using the information can be a substitute for any kind of medical treatment if any. If you are diagnosed with any kind of medical/clinical condition please do not avoid visiting a professional.
ABOUT THE TENDER CURVE:
Our purpose is to spread positivity and motivation by focusing on self-love and self-care. We also work towards reducing the stigma around mental health and by creating mental health awareness through our blogs.
People today have forgotten how to be happy; they have forgotten what it is to be inspired what it to be real & motivated. We all are so busy with our daily lives today that we have forgotten to take time out for ourselves.  We are here to remind you that you are special in your own ways. We are here to remind you that it's okay to not finish a task, or meet deadlines, its ok not to be ok! You deserve to be happy, you deserve to smile, you deserve to be cared and loved.
Loneliness - The Defining LineLoneliness can be defined on the lines of the discrepancy or the inability to achieve the desired social support. Loneliness is very subjective, and it need not necessarily be seen when we meet or talk to a person. Today, the world that...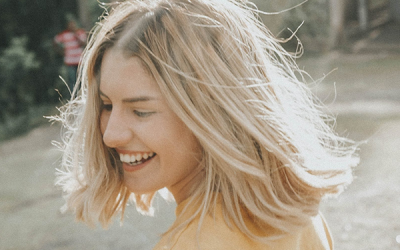 Gratitude is the act of being thankful, being appreciative of anything that pleases you. Gratitude is a spontaneous feeling; however, the practice of gratitude is consciously allowing yourself to count the blessings you have. In simple words, gratitude is a positive...